Come visit us every Sunday evening from 4 pm to 7 pm for enjoyable spiritual activities and an unforgettable vegetarian meal!
Learn the Art of Mantra Meditation.
Hear Ancient Spiritual Wisdom.
Experience your utmost happiness.
Schedule of Activities:
4 p.m. ~ Musical Meditation
5 p.m. ~ Vedic Philosophical Discussion
6 p.m. ~ Traditional Ceremony with Musical Meditation (arati)
6:30 p.m. ~ Free wholesome Vegetarian Dinner
The musical meditation is mantra meditation, Hare Krishna mantra, with melodious tunes.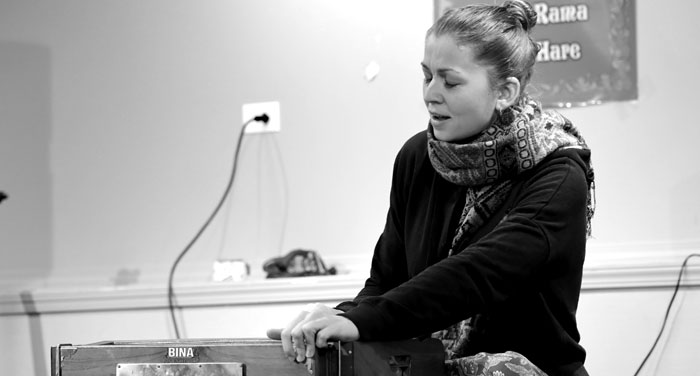 The philosophical discussion is rooted from the ancient Vedic Texts: Bhagavad-Gita, Srimad-Bhagavatam, etc.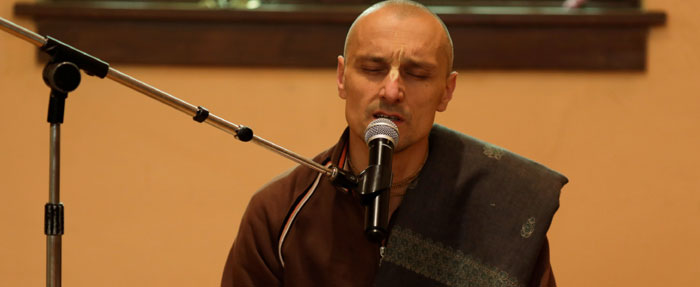 The traditional ceremony is called an arati which is a ceremony to worship the Divine and transcendental forms of the Lord with various elements like incense, lamp, flower, water, etc.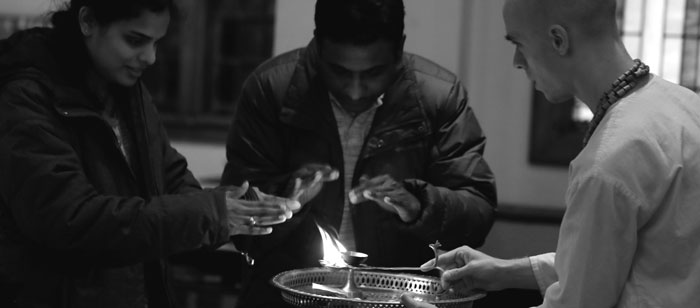 Danavir Goswami, RVC's senior spiritual leader, leads many of the Sunday talks.
All are welcome to attend this fun-filled evening of fellowship and association.
History of the Sunday Feasts:
The founder-acarya (spiritual master) of the Hare Krishna movement, A.C. Bhaktivedanta Swami, started the now-famous Sunday feasts in 1966. At the first Krishna temple in the Western world, located in New York's Lower East Side, he would personally help cook the twelve-course meals. Regular attendance at the feast rapidly increased to three or four hundred people. Generally these feasts consisted of:
puris – a light tortillalike whole wheat bread fried in ghee (clarified butter)
pushpanna rice – an opulent rice dish, prepared with nuts and spices.
samosas – a fried pastry stuffed with cauliflower and peas.
pakoras – vegetables dipped in chick-pea batter and deep-fried in ghee
two or more subjis – cooked vegetables, often including small cubes of fresh, homemade cheese.
kheer – a dessert of sweetened condensed milk.
burfi – a milk sweet resembling vanilla fudge.
lassi – cooling yogurt-fruit drink
In 1967 Hare Krishna devotees opened their second temple, in San Francisco's Haight-Ashbury district, where they served prasadam meals free to over 250 people daily. By the early 1970s, the ISKCON Sunday feast had been established as a weekly event in major cities throughout the world, including New York, Boston, Washington, D.C., San Francisco, Los Angeles, San Diego, Mexico City, Montreal, London, Paris, Rome, Amsterdam, Frankfurt, Nairobi, Calcutta, Bombay, Sydney, Melbourne, and Rio de Janeiro. Srila Prabhupada often light-heartedly referred to the Hare Krishna movement as "the kitchen religion," thus expressing his satisfaction with how well his followers were carrying out his desire to flood the world with prasadam.