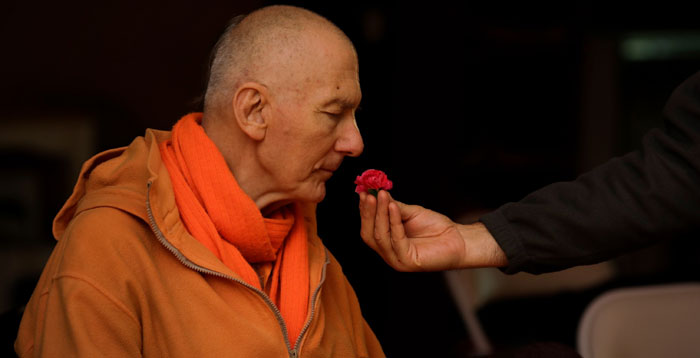 Danavir Goswami (Dr. Dane Holtzman) was born in Los Angeles, and he studied sociology and economics at the University of California, Los Angeles (UCLA). While at UCLA, he excelled in athletics and was selected the Most Valuable Player of 1970 (indoor volleyball) by the National Collegiate Athletics Association (NCAA). He also won an international 2-man beach volleyball tournament at Santa Cruz. Also, he was a lead singer of a band that was growing local popularity.
After speaking with a former materially successful teammate who gave up all material pursuits and joined ISKCON, Danavir Goswami was convinced practicing Krishna Consciousness was the most reasonable and worthwhile pursuit.
On June 11, 1970, he met His Divine Grace A.C. Bhaktivedanta Swami (Srila Prabhupada) and received initiation from him in February of 1971. Later that year, he was appointed temple president of the Portland, Oregon branch of ISKCON. Then he became the national sales manager for ISKCON's Spiritual Sky Scented Products Company until he was asked to institute the world's first training program for new Krishna conscious practitioners at the Los Angeles temple. Under the direction of Srila Prabhupada, Danavir Goswami proceeded to inaugurate training programs (Bhakta Programs) elsewhere in America, Europe, Africa, India, etc. Presently this comprehensive educational system for new monks and practitioners influences training programs throughout ISKCON.
In 1980, Danavir Goswami inaugurated Friends of Lord Krishna (FOLK), a lay congregational network in the UK, likely the Society's first. Thereafter he became director of ISKCON Scotland, Israel, Greece, Cyprus, Holland and Belgium. In 1987 he was elected to ISKCON's thirty-man world Governing Body Commission and was authorized as an initiating spiritual master.
In 1989, he returned to America to co-direct KrishnaFest, a national traveling Vedic cultural festival which included music, lectures, and multimedia theater. In the 1990's he met with leaders in Osafia, Israel to teach Israeli Druze about Krishna consciousness. He has earned the Bhakti-sastri and Bhakti-vaibhava degrees from ISKCON. In addition, he earned a Masters and Doctoral degree in Vaisnava Philosophy and Vaisnava Administration from the Florida Vedic College.
Danavir Goswami has taught courses in five major universities, lectured at over 100 colleges and many diverse religious institutions, and appeared on numerous TV and radio talk shows. He is the author and co-author of around 45 literatures on spirituality. Prominent texts he has written or co-authored include: Vedic Cosmology, Garga-Samhita, Vedic Paradigm, The Bright Side, Fortunate Souls, and many more.
More info on Danavir Goswami can be found here: www.danavirgoswami.com
Please "visit here" to browse his publications.
Click here for Danavir Goswami Lecture Archive