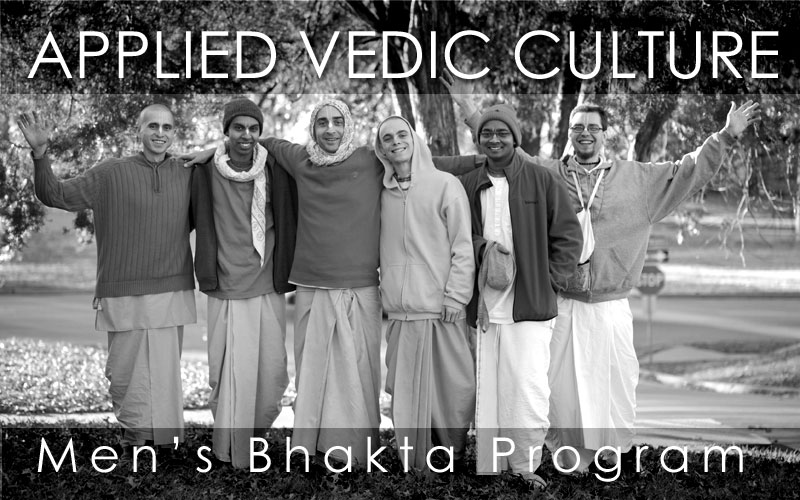 "Life's desires should never be directed toward sense gratification. One should desire only a healthy life, or self-preservation, since a human being is meant for inquiry about the Absolute Truth. Nothing else should be the goal of one's works."
Srimad-Bhagavatam 1.2.10
Applied Vedic Culture (Men's Bhakta Program) is an introductory course on the basics of Krishna consciousness. This program is dedicated to bringing like-minded individuals together to learn the science of Krishna consciousness in a practical and blissful way. Living in a community of those dedicated to the spiritual path accelerates our advancement to the goal of human life, self-realization, and by devoting some time to clear the consciousness, one will make serious spiritual advancement.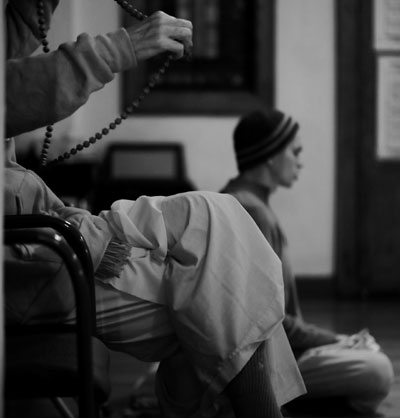 It is imperative to receive the best enlightened training in order to experience the most authentic state of higher happiness and satisfaction. On the contrary, our misdirected society has taught us to spend our limited energy on immediate temporary pleasures and unnecessary endeavors which hinders our spiritual growth. We are offering an alternative to this flawed system and facilitating an intensive study period which gives us direct experience of our real eternal blissful nature. By experiencing more of this natural pure state, we will observe exponential growth in ourselves as well as being able to help others around us by our own example and character, "A better you for a better world."
The program is overseen by Danavir Goswami, an accredited initiating spiritual master in ISKCON who has been successfully guiding sincere spiritual practitioners for many decades.
BENEFITS ACHIEVED:
Understand how to spiritualize your life and perfect the human mission most easily and quickly.
Gain a basic understanding of the Krishna consciousness philosophy, i.e. difference between the body and the soul
Learn the most effective method for meditation
Experience real friendships based on love.
Experience one's real eternal blissful nature.
Learn the techniques of sadhana (regular and consistent spiritual practice)
Become familiar with joyful spiritual outreach activities (sankirtana)
Become familiar with the life and teachings of His Divine Grace A. C. Bhaktivedanta Swami Prabhupada, Founder of ISKCON.
Become familiar with potential future opportunities available within RVC and within ISKCON if desired.
Learn to extend the practice to your own life in society.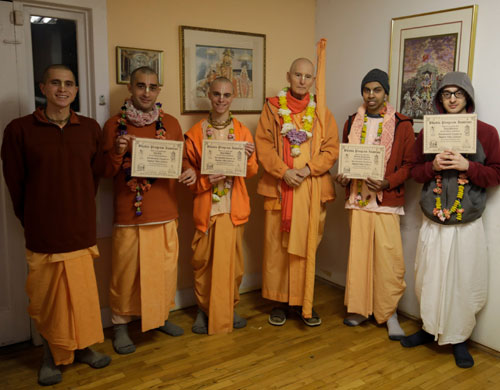 STARTING DATE:
Anytime. The program is ongoing. The daily schedule is continuous, so once you arrive you can plug in.
COST:
Room and board are provided at no cost.
Your only expense is transportation. There are inexpensive plane tickets using Spirit or Frontier airlines.
PROGRAM SCHEDULE:
One is expected to follow the course schedule below:
3:00 a.m. – 4 a.m. ~ Wake up, Shower, Dress and Prepare for Morning Service
4:30 a.m. ~ Mangala Arati (Morning Ceremony with Musical Prayers)
5:15 a.m. ~ Japa (Mantra Meditation on Beads)
6:15 a.m. ~ Sloka Class (Learn Verses from Vedic Texts)
6:30 a.m. ~ Japa (continued)
7:15 a.m. ~ Deity Greeting and Guru Puja (Prayers to Spiritual Masters)
7:45 a.m. ~ Srimad Bhagavatam Class (Vedic Philosophy)
8:30 a.m. ~ Breakfast
9:30 a.m. – 1:30 p.m. ~ Service, Rest, Study, etc
1:30 p.m. ~ Lunch
2:45 – 7 p.m. ~ Outreach (Public Harinama-Mantra Meditation, Literature Distribution and/or Explaining the Philosophy), Temple services, Study, Japa
7:00 p.m. ~ Sundara-arati (Evening ceremony with Musical Prayers)
7:30 p.m. ~ Bhagavad-gita class
9:00 – 930 p.m. ~ Rest
*If one is having trouble following schedule, he should consult with staff for guidance and possible adjustments.*
In order to facilitate the optimum benefit from our program, extraneous and unauthorized off-campus activities are discouraged.
TEXTS STUDIED:
Bhagavad Gita
Srimad Bhagavatam
Vedic Paradigm
Nectar of Devotion
Sri Isopanisad
WHAT TO BRING:
If you have these you can bring them. Otherwise the temple will provide them:
A warm coat for the winter semester
Socks
Towels
A few sets of clothes (washer and dryer provided)
A sleeping bag
Personal toiletries
Any Bhaktivedanta Book Trust books you might already own
Enough funds for return transportation
Ask us about other specific items you may have in mind.
OPTIONS FOR UNIVERSITY STUDENTS:
Take a Gap Year
Take a semester off from school
Consider a shorter period of stay:
Winter break
Summer break
Come for a weekend or week
IMPORTANT POLICIES:
In order to elevate the consciousness and maintain purity, we humbly request visitors or those participating in the three-month program to strictly avoid engaging in these four activities:
Possession or usage of intoxicants (Intoxicants include: alcoholic beverages, marijuana, drugs, things with caffeine, cigarettes, cigars, tobacco, vaporizers, etc.)
Sexual activity including self-induced behavior
Gambling of any kind.
Eating meat, fish, or eggs.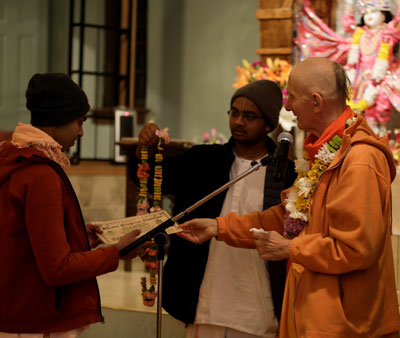 LEGALITY:
One must obey federal, state, and local laws, as well as ISKCON laws and RVC policies.
Residents are not allowed to possess firearms.
Residents are not allowed to steal or make ownership of our center's property unless items have been explicitly gifted to them to keep.
It is up to the discretion of our staff regarding who may or who may not reside here; we hold the right to request someone to leave if person is does not follow policies and/or is a disturbance to staff and/or residents.
Any student or faculty member is free to withdraw or leave at any time. There is no compulsory force upon any residents.
HEALTH AND MEDICAL:
RVC provides no personal or group medical/dental care or health insurance for its participants.
RVC has no nursing, medical or hospital facilities on campus.
RVC has no trained medical or psychological treatment staff or facilities.
Participants are allowed to maintain their own medical care programs or health insurance programs at their own expense.
Participants are entitled to certain medical/dental and health care benefits as offered by state, county or private sector institutions without payment.
We will assist participants to obtain whatever medical/dental and health care facilities are available without payment in every way possible.
Participants requiring more medical, nursing, and/or psychological care than we can offer, must find such outside help.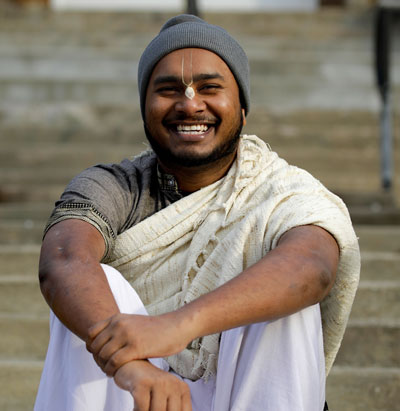 AGED, ILLNESSES:
The minimum age limit for the program is 18 years. There is no upper age limit.
Aged or chronically ill persons are eligible to become participants and we will try our best to accommodate such persons. However, we cannot guarantee our ability to maintain such persons under all circumstances.
If we determine that we are unable to maintain any participants aged or ill, then such persons will be obliged to find another place of residence more suitable.
FOOD POLICY:
The diet offered excludes all meat, fish or eggs in any form. No animal products are used whatsoever, including rennet. Additionally, no onions or garlic are used.
MONEY, DEBTS, COSTS, DONATIONS:
All funds and/or items which are donated to us are tax deductible and non-refundable.
We assume no responsibility for the debts accrued by students and faculty/staff before their entering program.
We assume no responsibility for the debts accrued by participants incurred while engaged in activities not facilitated by the program.
In some cases, we may agree to assist longer-term residents in liquidating previous debts over a period of time.
VISITORS:
Participants are permitted to invite their friends and relatives to visit as guests.
Such guests shall be provided meals and guest accommodations if required according to availability.
ACCOMODATIONS:
Room accomodation and bedding is supplied by us. Resting is accommodated either on foam mats, mattresses, or bunk beds.
POSSESSIONS, STORAGE, ETC:
Please consult us about needing to store possessions and/or keeping a vehicle on campus premises before coming.
Please take time out for what is most important. Contact us for more details about registration!
FAQ:
Q: How do I get to the center?
A: Just get to Kansas City, Missouri and we'll pick you up from the airport, bus station or train station.
If you are driving, our address is: 5201 Paseo Blvd, Kansas City, Mo 64110
Q: What are the benefits of waking up early?
A: The segment known as brahma-muhurta (a muhurta is a two- hour segment of time; each day has twelve muhurtas) is the most conducive part of the day for advancing in spiritual life.
Some students may find rising early quite a challenge, even more so than comprehending the philosophy. But rest assured, after a little while, getting up early is not only tolerable but immensely enjoyable. Participants should expect a few days of adjustment to
the new schedule.
Q: What is the benefit of following schedule and activities?
A: Since you are coming for the specific program, it would be best to follow the schedule and activities; however, during down time one can take a walk, read books on Krishna consciousness, write reflections of experiences, etc. The idea is to completely immerse yourself in the program to most effectively elevate your consciousness without being influenced by external factors. ie: society pressures, media, etc.
Q: Is Krishna consciousness a religion?
A: Krishna consciousness is not a sectarian religion, it is an ancient monotheistic spiritual tradition with principles and practice that are based on a sublime and completely philosophy.
Our teacher, A.C. Bhaktivedanta Swami, used to stress that Krishna consciousness is a spiritual science. There is the theory or knowledge, which is beyond our normal perception of reality, and there is a practice or technology on how to utilize, realize, and gain deep experience of that knowledge. In this way, Krishna consciousness is free from dogma and beliefs.
Q: Is there anything else I need to know?
A: Say out loud the Hare Krishna mantra to prepare yourself and keep in touch with us